Post by Man in Black on Nov 14, 2009 2:15:07 GMT -5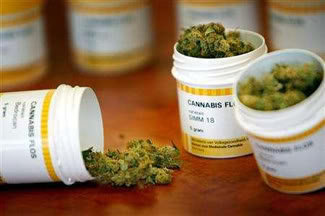 This article/editorial/rant comes with a disclaimer from me:
Personally, I kinda hate most all recreational drugs. Not the people who use them, but just the opposite. I have seen so many friends and family members totally destroyed by their drug of choice from cigarettes and/or pot to alcohol. I have spent as much time as I possibly could counseling youth (most of whom who used more than one drug). I just hate what the stuff does to people who I care about. A lot of really good people use drugs.
OK, now that my stance is out of the way let me say this. Anyone who stands in the way of legit medical marijuana use is not helping anybody. If this is the drug that takes pain from people who chronically hurt... then trust me they should have it. If my doctor told me tomorrow that he thought it would help me be even a little bit more normal I'd light one up immediately and I've never even had a cigarette in my mouth.
The biggest problem facing legit users is recreational users that are pushing to legalize the drug by parading around pretending to wave the flag of medicinal use. Anyone with any sense can see that they are just trying to make it easier to get high without paying a fine. People, if you want to fight for the legalization of pot then go right ahead; it's a free country. But, please realize that you are killing the chances of people who may actually NEED the drug.
I just finished reading a news article (link below) on a new "Pot Cafe" that opened in Oregon. The owner, Eric Solomon, justifies this... well... amazing venture by claiming that he just wants to provide a place for medicinal users to smoke.
Solomon says "I still run a coffee shop and events venue, just like I did before we converted it to the Cannabis Cafe, but now it will be cannabis-themed." Solomon also plans to hold marijuana-themed weddings, film festivals and dances.
That's the spirit dumb@! I'll speak for people with severe and chronic pain - that is really something we'd all like to celebrate! If people in my town were having Methotrexate, Lyrica or Prednisone parties... I'd have to hurt somebody. Trust me if you are suffering badly enough to truly warrant using a drug then the last thing you want is everyone treating your usage of it like Mardi Gras.
This is just another sad case of somebody using a loophole in the laws to make money and/or get attention. In this case it only serves to unnecessarily aggravate an already sensitive situation.