Post by BellaSwan on Aug 14, 2008 23:05:43 GMT -5
Twilight
By Stephenie Meyer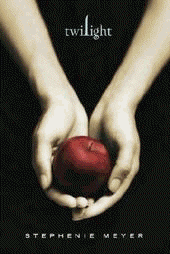 While looking for the perfect new series to fill the void left by Harry Potter and the Deathly Hallows, I stumbled across the Twilight series by Stephenie Meyer. I had heard good things about the books and the subject matter intrigued me: small town high school girl falls for small town high school vampire.
Finally, I bought the book, and I read it in two nights. While the story is told at a slower pace, Meyer really pulls you in so that you just have to read the next chapter (or three) to find out what is going to happen. Her character development is amazing; you feel like you know the characters without her spelling everything out for you. For example, she doesn't give you the typical main character description right off the bat; you're finding pieces of Bella througout the book. And Bella Swan would be the main character.
Isabella Swan, or Bella, moves to small Forks, Washington in the middle of her junior year of high school. An ordinary girl who fails to fit in anywhere, Bella dreads walking into her new high school which has a student body of around 300. Everyone knows she's coming - her dad is the town's police chief. Her first day doesn't disappoint. Students feel free to introduce themselves and offer their services to Bella. All but one strange, beautiful boy she sees across the cafeteria at lunch. This boy turns out to be Edward Cullen.
When Bella gets to her next class, the one empty seat is beside Edward. When she takes her seat, he lurches away from her, and when the bell rings, he leaves the classroom in a hurry. After all the attention she didn't want, Bella is totally put out by Edward's reaction to her. As the story develops, we find out why Edward had such a strong aversion to her - he's a vampire and Bella's blood in particular has a very strong appeal to him. Of course, Edward can't really stay away from Bella for good.
As in any good love story, there are forces working against Edward and Bella. There are the other boys at school, who all want to date the new girl. But there's also her father's old friend Billy Black, a member of the local tribe of Native Americans and a believer in the old stories of the "cold ones," the enemy of his people. Of course, "cold ones" refers to vampires which means Billy does not approve of Bella's choice to be with Edward. And it's Billy's son Jacob who first tells Bella the stories, leading her to discover Edward's true identity.
Without giving too much more of the story away, let's just say Bella falls in love with Edward, and the expected complications ensue. However, Edward isn't your ordinary vampire, and Meyer tends to stay away from stereotypical vampire traits like crosses, garlic, and coffins. These differences along with the development of their love story, the true agony that you can feel from Edward as he tries to convince himself he's no good for Bella, keeps you pulled in. And with the nice inclusion of the first chapter of the next book at the end, you're very neatly left wondering what comes next....
Rating of 10: 8
*Note:
This is a series of four books, all of which have now been published (New Moon, Eclipse, and Breaking Dawn). The movie based on the first book is set to be released in December of this year. Also, Meyer has said on her website that she is now working on a companion book to Twilight based on the story from Edward's point of view. To get a sneak peak of a rough draft of the first chapter, click
Midnight Sun.